Custom Design Your Garage's Full Potential
Garage Organization Cabinets
We are the experts in garage organization. Our team has transformed garages into beautiful, efficient spaces utilizing high quality, industrial grade garage floor coatings, 'real' garage cabinets, and organizer systems along with years of garage renovation expertise, and has also participated in the Extreme Makeover Home Edition.
Our Custom Storage Garage Cabinets provide an attractive, durable & affordable home personal organization system for your garage.
Design Storage Garage Cabinets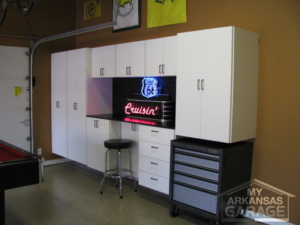 All of our Design Storage Cabinets feature our exclusive shelf support system that dramatically increases strength and resists bowing.
Cabinets are available in 12″, 16″, 24″, and 30″ depths and widths of 1′, 2′, 3′, & 4′. Just to name a few: these may be customized into Sports Lockers (kids and adults), Lawn & Garden Cabinets, Recycle Cabinets, and Entertainment Cabinets.
You may choose from Black, Chocolate Apple, Grey, Maple, Unfinished or White Cabinets.
We customize garages…any style, any color, any size. Let the experts make it more than just a garage!
We design, We install, YOU enjoy!
Stainless Steel Garage Cabinets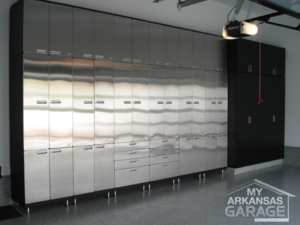 Your Garage Your Way! Garage storage so beautiful, your kitchen might develop an inferiority complex!
For a garage beyond your dream…combine the Stainless Steel with our Liquid Metallic Floor coating system. Beyond the garage, these work just as well for the Hobby Room, Laundry Room and Home Office.
Contour Design Cabinets
Our Contour Cabinet Line is a unique European-inspired cabinet. This cabinet line offers a beautiful color selection of functioning all-metal modular cabinets.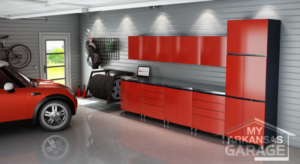 Contour teamed their engineers together with their stylist to come up with a timeless design loaded with advanced engineering features never before seen on a mass-produced metal storage cabinet. For example, one such unique feature is the aerospace-inspired swing-up contoured door which swings upwards and out of the way, allowing for an unobstructed workspace.
Another innovative feature is the full-face handle-less doors and drawers that deliver an aesthetically-pleasing contoured design and hide the unsightly cabinet frames that are commonly seen in typical garage storage cabinets. Finally, their integrated finger-pulls allow for effort-free opening of doors while drawers glide open with a gentle push-to-open/push-to-close mechanism. The end result is a stunning yet fully functional and modular cabinet system.